[ad_1]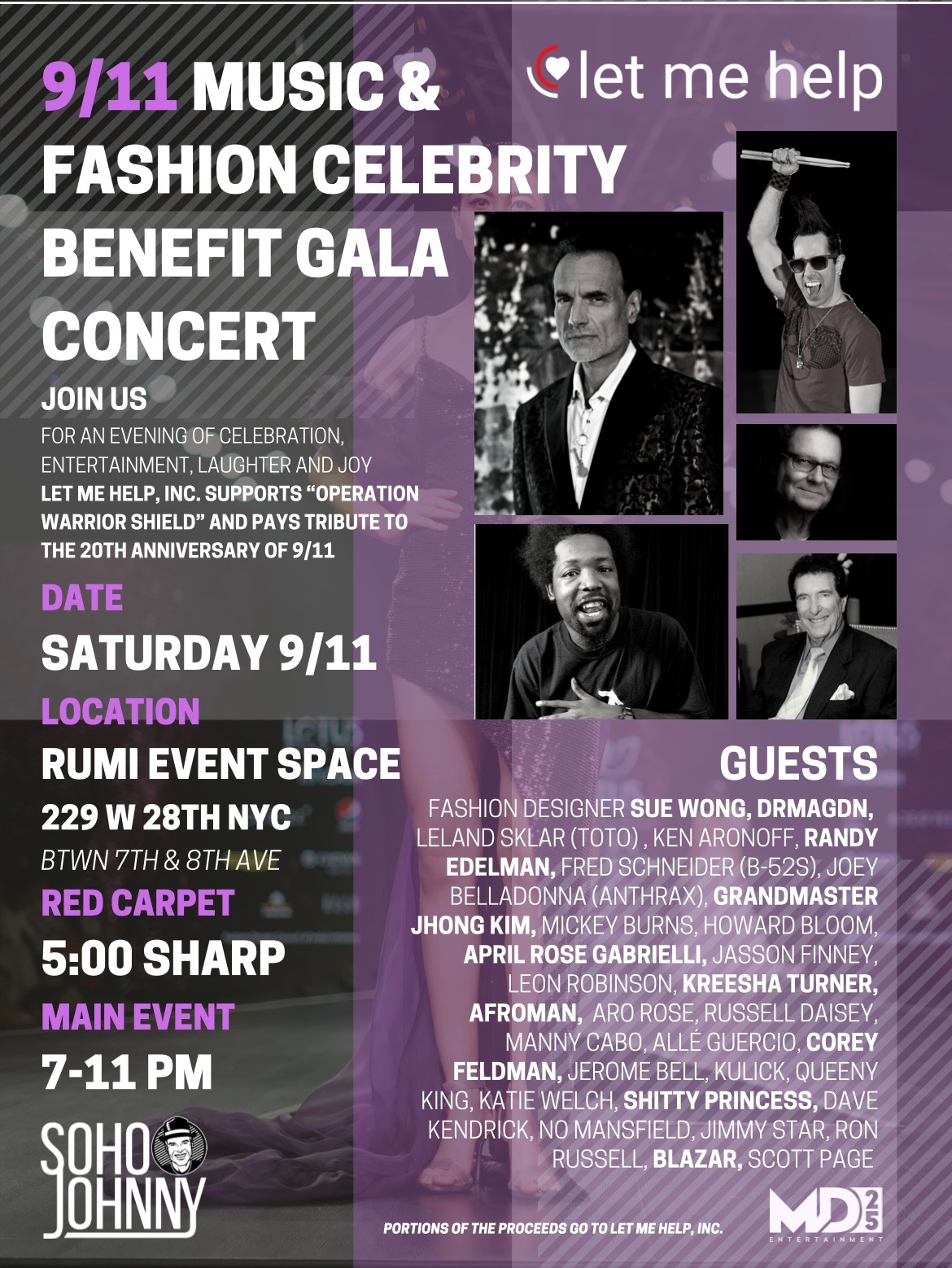 SohoJohnny Presents "9/11 Let Me Help, Inc Music & Fashion Celebrity Benefit Gala Concert" on Saturday September 11, 2021. It is set to take place at Rumi Event Space located at 229 W. 28th Street (between 7th and 8th), in Manhattan. The Red Carpet begins at 5:00 PM EST and the main event starts at 7:15 PM sharp. 
The event pays tribute to the 20 year anniversary of 9/11 with a barrage of fashion and music celebrating New York Fashion Week and a prelude to the opening of Broadway. The Let Me Help, Inc foundation founded by John "SohoJohnny" Pasquale strives to help people whose lives and livelihoods have been affected in some way by unforeseen circumstances or illness by raising money through the celebration of music, laughter and dance, and a portion of the proceeds will go to Let Me Help, Inc to benefit "Operation Warrior Shield", an organization helping wounded veterans through the use of service dogs.
Let Me Help, Inc Foundation Mission: "To spread music, joy and illumination to the human soul and spirit while helping others." – SohoJohnny 
Other featured artists performing or attending will be Corey Feldman, Leon Robinson, Kim Sledge, Afroman, Randy Edelman, Leland Sklar (Toto), Scott Page (Pink Floyd), Fred Schneider (B-52s), Joey Belladonna (Anthrax), AniMaze X, Mickey Burns (Profiles Talk Show), Howard Bloom (author), Kreesha Turner, Kenny Aronoff, Grand Master Jhong Kim, Blazar, fashion icon Sue Wong, DRMAGDN, Kulick, Manny Cabo, Billy Hess, Katie Welch, No Mansfield, Shitty Princess, Jerome Bell, Alle Guercio, Jimmy Star, Ron Russell, Aro Rose, Russell Daisey, Simonetta Lein, January Jane, Jasson Finney,  April Rose Gabrielli, Queeny King, and many others…
SohoJohnny is a philanthropist who uses music as a means to bring people together to help others. The charismatic musical ambassador, who started out as an entrepreneur, has always known the gift of sharing and healing that music can bring, and with his music production company also titles SohoJohnny, he has hosted musical charity events for the American Cancer Society, Humane Society, anti-bullying organizations (#IAMNOJOKE), Meals on Wheels and more recently, COVID-19 victims and their families. SohoJohnny lost his own mother early on during the pandemic which made him more determined to help victims of the deadly virus. 
Get tickets on Eventbrite here:
https://www.eventbrite.com/e/the-let-me-help-grand-celebrity-benefit-music-fashion-gala-ft-drmagdn-tickets-166678579117
The official website for SohoJohnny may be found at https://www.sohojohnny.com
The official website for Let Me Help, Inc may be found at https://letmehelpinc.org
Media Contact
Company Name: World Star PR
Contact Person: Jimmy Star
Email: Send Email
Phone: 631-506-6600
Country: United States
Website: https://www.facebook.com/WorldStarPR/
[ad_2]