[ad_1]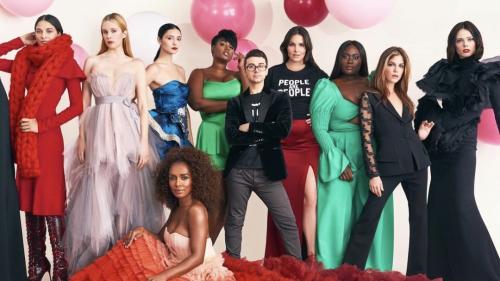 As we cast our eyes upon a new year of fashion, the word 'diversity' is on everyone's lips, or at least at the back of their minds. For us fashion watchers, we eagerly await to see how diversity will be represented by brands on the runways, though some might (understandably) be worried that fashion labels will use diversity tokens to boost their marketing strategies, buying into the whole movement.
Such is the problem with diversity. Being a subject that is important to many, brands have to tread carefully when dealing with the issue. It seems that if they do do something, they must explain why. On the flipside, should they choose not to be as diverse as their competitors, it seems that the hole that they risk being targeted for their lack of action. In the last few months of 2018, Victoria's Secret's Ed Razek commented in an article for Vogue that trans women don't sell the fantasy as a way of justifying their choice not to cast trans women in the iconic Victoria's Secret Fashion Show. The comments understandably drew an uproar from the LGBTQ+ community, who perceived the comments as transphobic and pejorative to the diversity movement that the rest of the industry seems to have been making an effort to promote.
The fact that 'fantasy' was brought up hints at a more entrenched issue. Fantasy evokes ideas of an ideal, the ideal standards of beauty the fashion industry has notoriously maintained and enforced. But whose fantasy are we really catering to? And has that fantasy changed? We might argue that the fashion industry, perhaps in this case lingerie brands, are too out of touch from society. People have begun to move away from a singular paragon of beauty; now we look to a multitude of people as role models. From a greater range of ethnicities on the catwalk, to a more diverse range of sizes, the demand for representations of a more inclusive range of backgrounds, which in the past may have been excluded from the traditionally 'beautiful', has undoubtedly risen.
It is undeniable that we are seeing more diversity all over the fashion industry, from runways to magazines. The Fashion Spot reported that 2018 was the most diverse year (in terms of race) for magazine covers, while size and gender representation more than doubled. New York Fashion Week Spring/Summer 2019 shows featured 44.8% women of colour, and we saw brands like Prada cast the first black model in 20 years to open their show. More than ever, the runways are no longer being whitewashed and are starting to move towards greater and fairer racial equality and representation. But this comes after many years of campaigning, from Naomi Campbell's struggles to be recognised as one of the first black supermodels to Dolce & Gabbana's racism scandal, and it seems that it is, slowly but surely, paying off. But as far as we have come, there is some way to go.
In terms of size diversity, there have been improvements in plus-size representation, with numbers nearly doubling in the New York Spring 2019 shows. Magazine covers casted more plus-size models than ever, although the figure still lies at a paltry 2.4%. Ashley Graham and Paloma Elsesser, two of the leading plus-size models, starred in an iconic issue of Vogue Arabia that focused on spreading the message that 'beauty has no size'. This signals a much-needed and welcome move by publishers towards body inclusivity, perhaps finally realising that the market consists of much more than just three sizes.
"People have begun to move away from a singular paragon of beauty; now we look to a multitude of people as role models."
However, it is perhaps disheartening to note that the increase in body diversity on runways is largely limited to NYFW. In the European shows, we see a stagnation of numbers or simply no effort at all. Only 3 curve models walked in the Autumn/Winter 2018 Paris shows, with none in either London or Milan, as reported by The Fashion Spot. This highlights the lack of equal uptake of the movement around the world, and brings forth fundamental issues of body diversity in European. It is definitely not the case that the European countries do not have any plus-size population, but it is perhaps an ingrained societal consciousness that chooses to ignore plus-size as an attractive and marketable person.
Anna Shillinglaw, founder of UK modelling agency Milk Management told Refinery29 that it was mostly high-fashion labels that have been slow to make changes, while the commercial and editorial fronts have been more embracing of a wider range of sizes. Indeed, labels like Chanel under Karl Lagerfeld have repeatedly shunned 'plus-size' models, and couture shows rarely cast 'plus-size' models. Even if they do, it seems like the one or two 'plus-size' models is a token for proving progressivism and to show that the brand is welcoming of that market. From a cynic's point of view, token 'plus-size' models harkens back to the day when labels might have one model of colour walk their show so as to appear ethnically diverse and inclusive. It simply is not enough. Casting and representing a diverse array of body types should become a norm, with labels like Chromat and Christian Siriano coming to mind as front-runners in the diversity race.
But diversity cannot be confined to only body size and race. Transgender and non-binary models have slowly been making their mark on the fashion industry. At NYFW, Marco Marco broke new ground by casting an all transgender lineup in their show. More and more openly transgender models have been appearing on runways and editorials, although they are still a small percentage. Brands like ASOS have come up with gender neutral collections, which have been celebrated as a step in the right direction. On the flipside, as the Victoria's Secret saga has demonstrated, there still seems to be deep-rooted antagonism towards the transgender community. As the LGBTQ+ community continues to gain acceptance, such stereotypes should hopefully dissipate.
The diversity conversation, however, seems to be quiet on the men's fashion front. There is little report on the statistics of diversity for menswear, and it does not seem to be a critical point of interest. This needs to change. The question of representation is just as important for men as it is for women, and we have to be more aware of implicit discrimination against body types and race in the male sphere. Male models have traditionally been dominated by a particular body ideal and the industry has not been too accepting of different ones. It may be high time for the male fashion industry to increase diversity to better fit society's demographic.
In the forthcoming fashion month, I'm not hoping for much, just progression and incrementalism. I'm not expecting diversity to erupt on every runway. It is my hope that the shows continue to work towards increasing diversity, and that even if they don't, they don't provide unnecessary justifications and mindless excuses. It is my hope that we no longer celebrate firsts in diversity, but see diversity in all aspects as a norm. The fashion world has long been built on stubborn foundations of certain models of beauty and it will take time. We cannot simply declare that brands have to be diverse at once, and (unfortunately) expect it to listen overnight. We need to wait for the whole mechanism, from corporate to design to the consumer, to catch up to social consciousness. But the fact that these foundations are being chipped away gives me hope for the future of fashion: it looks bright, colourful, diverse and beautiful.


[ad_2]

Source link